It's almost funny how little I want to type this post. The thoughts are in my head, but the idea of full sentences is too much. You need to plan out the subject, verb, predicate. Have a snack. Vary sentence structure. Go on to Sentence #2. Consult Chicago Manual of Style as to whether you capitalize "sentence" in previous sentence. Find stills of Nicole Kidman's hair in The Undoing, costarring Hugh Grant on HBO. Watch Practical Magic.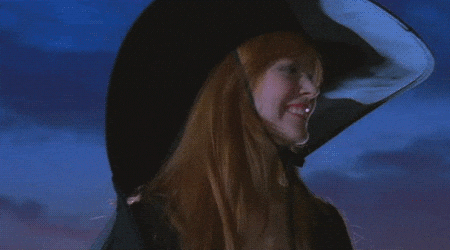 You guys, I made it to the second paragraph and even included a GIF! So what next? Right. Let's see. The last eight months have been shit on a stick for everyone. Creativity can't thrive in such environs. Or can it? Writers are supposed to be depressed, understand the inner workings of…something. All the greats were bozonkers! But there's depressed…and *depressed*.
So, how does one shake out of it?
I really don't know. No one does unless they've survived the 1918 pandemic. They didn't have the same "therapeutics" or mental health resources as we do, so we shouldn't complain. That doesn't lessen the suckiness, does it? COVID-19 has been so long lasting, so global, epically shitty (I said it again, Mom). Forming new sentences seems at the bottom of our lists of needs, just below Sprite.
Even though the idea of writing strikes me as impossible, a few tools kick me further toward a butt-in-chair situation. I know I'm not alone in this, so I hope you can relate, and if not, never mind.
Helpful tips!
Work while your spouse, friend, child, colleague, pet is working (or sleeping). My husband starts remote teaching at 6:30 pm, so that's when I write. The sound of his voice lulls me into a relaxed state, which is how I can type this now.
If you can't write, read books or watch movies that are related to your story. Because I've been writing a women's fiction novel (with twisty suspense), I'm reading about jewelry, Structuralism (I don't really know what this is), Paris, New York…and lots of celebrity stalking. So if I can't write, I can read until the wee morning hours and feel on track.
Set a low, achievable word-count goal. For me, this is 1K words. Easy peasy. Even if it's a pile of crap, as Anne Lamott says. Bird by Bird is a must read, btw.
The obvious: Reward yourself often with things that please you. Wouldn't it be funnier if I said, "Run at the wall headfirst until unconscious?" Seriously, I appreciate whatever makes my surroundings beautiful, like Essie nail polish. I take an hour to do my nails or watch a makeup tutorial. My husband likes to cook and go on bike rides. What do you like to do?
Suspense-aholics: For months, I've been making the mistake of over-watching Snapped, Dateline, other types of murder shows. Pace yourself since the awfulness of crime can rattle your psyche further. Temper bloody knife-waving with a little The Office, Hallmark Channel (as much as possible), Ted Lasso, or dramas where the acting is so good it's like a happy story.
This is a hard one, and I promise I won't buy another leopard print blouse or eat the rest of my "share" bag of M&Ms, but the impulse purchases and naughty food is a poor substitute for writing. Maybe on a Monday or Tuesday. And Wednesday.
But if you have to spend the day in Michael's getting fun beads for necklace-making, consider that there's a book waiting to be written. You have all the time in the world, no pressure…but it's there. Break it down into small steps. Make a promise that one day you'll return to the extremely rewarding and not-at-all-challenging world of writing.
And yet, no one can tell you what to do. Especially now. As South Park's Cartman says to his mother, "I do what I want!" Genius truth–Life is too short.
Doomscrolling, not a word 13 years ago. While my grandparents faithfully watched The Love Boat and Fantasy Island with me, along with several soap operas, Grampa Smith said that it was a "waste of time." So is Doomscrolling. Forget that, I love it too. But it sucks.
Romanticizing past productivity and the evils of technology can be your depression-go-to–and you can also venture out into a semi-normal world and do something as ordinary and normal as filling out a ballot, which can lead to a desire to tell the world (which is officially writing). I love Mondays, so I set out today with my new sneakers (impulse purchase).
With so much change, there is much to be grateful for (and totally pissed about). Getting to this end of this post is my win for the day…and finally voting. However you strive for inspiration in these not-normal times, it sounds good to me. I hope you find little pockets of creativity and can share it with us–along with pictures of COVID impulse purchases in the comments.