Today, I was supposed to get on a plane to Las Vegas to see Duran Duran in concert tonight, then Gwen Stefani tomorrow night. It would have been two orgasmic concert dreams come true and in one of my favorite cities. But hey, what can you do when COVID strikes? You can stay New York Tough.
No matter what plague is hitting, I will go on a celebrity adventure. Last week's trip was to the land of all things Prince. My greatest music regret is the I never saw him play live. Friends tell me it was an experience you never forget.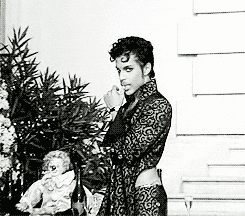 My rabbit hole began with the Grammy's Tribute to Prince a couple weeks ago. I discovered the majesty of H.E.R. and bought her self-titled album (a new obsession is born). Hearing Susanna Hoffs's silky voice brought tears to my eyes before Usher summoned Princeness to a goosebump level–and with a gasp-inducing final five seconds. Seeing Sheila E., The Revolution, Morris Day and the Time gave me such warm fuzzies that I had to continue further down the hole. Wait, back up. I have to watch Sheila E. again.
On my tour, I watched Prince on the Muppets, his stint on New Girl, a show he loved. I then delved into all the weird-cute things he said in interviews. More recently, I coveted the time he and Lenny Kravitz sang "American Woman". Then he shows up in other unexpected places–and RULES.
As with many, Purple Rain was the soundtrack of my teens. I feel every song on that album and no matter what's going on, I can tune in to the genius. I blasted Purple Rain on my Walkman while training for soccer. It always helped me get around the track because fresh air sure didn't. But, tragically, it was also the album being played during the most terrifying 90 minutes of my life. I never thought I could listen to it again, but I did–over and over and then moved on to his next albums. Before I go on, let me watch this one more time.
I first heard about Prince in 1982 thanks to Anita, who lived on my hall at boarding school. While I put up a chaste poster of a tiger swimming, her walls were all Prince, even the topless ones. She didn't care. Anita played his music and kissed his posters. Sadly, both of them left this earth way too soon. I like to think that she's cozying up to him right now.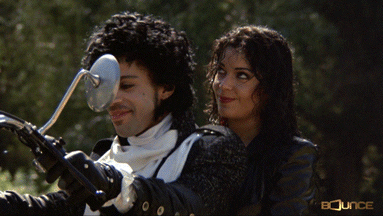 The far-too-short trip down the Prince rabbit hole ended perfectly last Sunday. I went onto Facebook for random scrolling and stopped on my musical genius friend Jon's live concert. Thankfully, he is entertaining us during this COVID nightmare. Not knowing about my Prince-themed week, he plays "Starfish and Coffee" right as I tuned in. Sam thinks it's just a coincidence. I think it's Prince.